URBAN RETREAT - Nourrir sa Lumière
Akashic record & "Lucid Body" drama & art healing 
Montreal | September 16-23-30, 2023 | 10AM - 5PM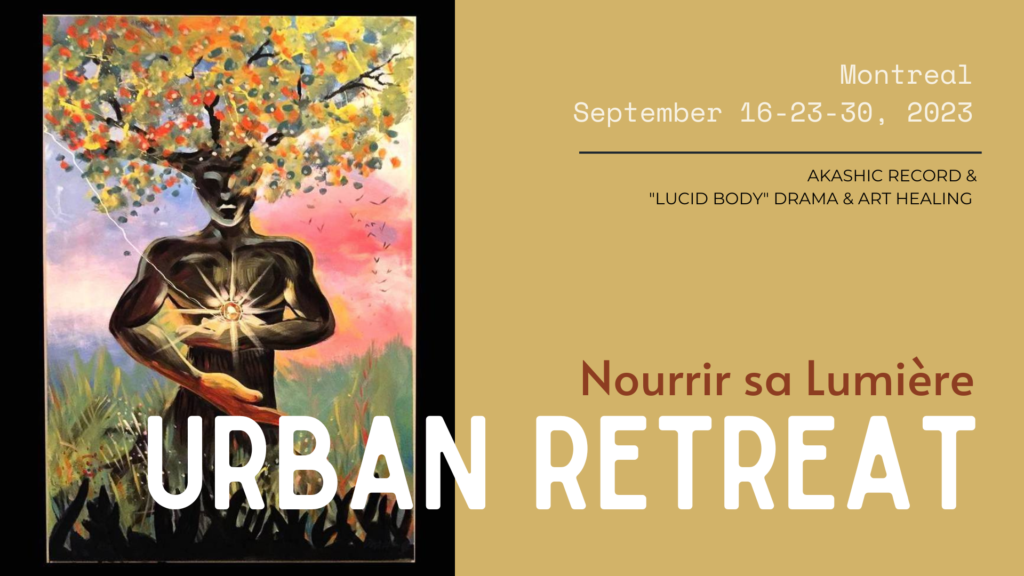 We can't wait to share this unique experience with you ! In order to register to our retreat, we kindly ask you to proceed to the 25$ pre-payment (see details below)

25$ pre-payment booking details: bank transfer to Caroline Moisan Swift code : CCDQCAMM – Transit number : 30522 – Bank number: 815 – Folio (account number) : 233168
Work your light – Clarify your vision – unleash your resources
DATES:
16/09 ABUNDANCE
23/09 BALANCE
30/09 ASK AND ALIGN
TIME :
10am to 5pm
LUNCH:
VEGETARIAN INCLUDED
******LIMITED SPACE AVAILABLE *******

WHERE:
RUE ST-HUBERT, PLATEAU MONT-ROYAL, 5 mns from Metro Mont-Royal
PRICE: CONSCIOUS OFFERING BETWEEN 40$ AND 95$ PER DAY.  25$ deposit must be done to book, the rest will be due the day of the retreat
Details:
Which potential is unlocked, unfulfilled in you?
Which aspects of your life seems blocked?
Which precious gift or talent you wish to share with the world but you have no idea how to walk those steps toward its realization?
Is there any stress or an empathetic depletion that drains your energy or vitality?
Those 3 days are an invitation to nurture your connection with your inner strength, resources and energies that support you in navigating your journey with more clarity and joy. It is an invitation to explore your own beat that aligns with your own true flow. You cannot solve a problem with the same mind that created it and you cannot attract a different experience without changing your energy first.
Gain clarity on your own unique light supported by Akashic Records healing and guidance.
Art exercises to bring to form what we have clarify within us.
Lucid body is a somatic journey of self exploration and release. Using the chakra energy centres as tools for understanding and expanding our idea of the Self. Drama exercises to widen our range of self expression to cut through the habits that keep us limited.